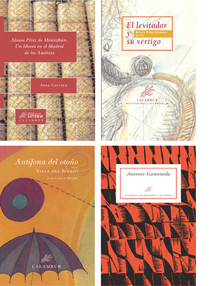 Founded in Madrid in 1991, Calambur publishes contemporary poetry in Spanish and in bilingual editions (Portuguese, Catalan, Galician, Basque ...).

Calambur also publishes "Calambur Narrativa" that includes contemporary Spanish texts (including the winners of the Manzanares Prize), and some translations of classical authors.

Calambur publishes too essay in its collection "Biblioteca Litterae" about history of books and written culture, and since 2008, the collection "Calambur Ensayo" dedicated to literary, artistic and historical essay.