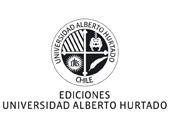 Ediciones Universidad Alberto Hurtado

Under the Faculty of Philosophy and Humanities, since its foundation in 2008, Ediciones UAH edits and publishes books related to research conducted by professionals from various areas of knowledge, which are reviewed by experts in the respective subjects.

It has a catalog that accounts for the research that motivate this university and is an example of the work of scholars and their areas of expertise. Their titles are distributed in 13 thematic collections - Literature, Chilean Library, Philosophy, History, Jesuit Library of Chile, Theology of Time, Education, Sociology, Law, Economics and Business, Social Work, CISOC, Ethics, Music and Journalism.