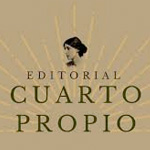 Editorial Cuarto Propio
Since its foundation in 1984, Editorial Cuarto Propio has played a decisive role in the dissemination of critical thinking and literature, which makes a great cultural contribution. Inspired by Virginia Woolf's feminist manifesto created to output and critical thinking banned during the dictatorship, this publishing house has accompanied a major number of national authors.
After 28 years Cuarto Propio follows the course charted outside the maps drawn by the market, contributing to reflection and creating more than 500 titles published in Chile and abroad.